Sell new construction projects
We help you with our expertise
Effective sales for developers
We will successfully act on your goals for your current new-build projects by drawing on our expertise in marketing and selling property.
Twice the professional expertise
Ever since our company was established in 2003, we have had a wealth of market knowledge and skill at marketing residential and commercial properties in Switzerland and in your local area. This is twinned with the expertise of our own marketing department to give you access to consultancy and sales specialists under one roof.
Before construction work even begins, we will produce a marketing strategy for you which is tailored to your target group and their needs. We will transform the technical specifications into a desirable property to attract investors quickly.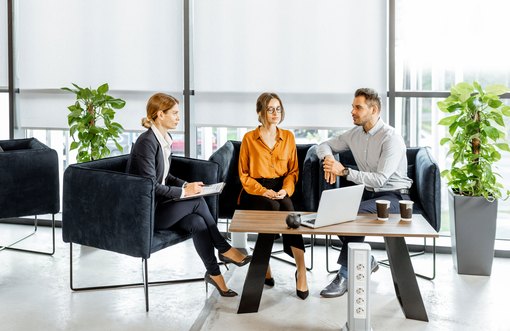 Consultancy
We have been a strong market player since 2003 and will quickly sell your new-build project at the best price. Consultancy and sales are our focal points, so we have up-to-date infrastructure and streamlined processes to ensure our estate agents have the necessary resources at their fingertips. Your personal estate agent will provide individual support from start to finish, ensuring a successful working relationship.
Marketing
Marketing packs tailored to your target groups support the sale of your new-build project. With the help of our experienced marketing department, we can make targeted use of all relevant channels – such as online or classic marketing – and offer you advertising that turns your construction project into a brand. We will define measures and appropriate channels by working effectively, hand in hand.
Talk to us before you even start planning your construction project to secure reservations and off-plan sales before you approach potential financing partners.
Your benefits
verified
A professional set-up right from the start
A carefully considered marketing strategy and professional marketing packs before construction even starts
schedule
Save time and money
Quick, efficient sale of the property or dwellings
person
Personal contact
Individual support provided by your personal estate agent from start to finish
Professional marketing for your new-build project
Frequently asked questions on the topic of "New construction project"
Where and how can I find suitable new-build projects?

keyboard_arrow_down

Municipalities and local authorities usually publish details of plots and properties for sale themselves. You can find information here about sites earmarked for development or new housing estates where plots are still available.

We are happy to help with your search, of course. Talk to us before you even start planning to secure reservations and off-plan sales before you approach potential financing partners.

When does the purchase price become payable for a new-build project?

keyboard_arrow_down

Usually, the buyer and seller agree that the buyer will transfer the purchase price once the contract has been signed by both parties, notarised, and entered in the land register.
Contact us with no strings attached
We are there when you need us
Do you have questions about new construction projects? Our experienced advisors will be happy to support you.
  058 520 01 30
Mon - Thu: 8.00 a.m. – 8.00 p.m. | Fri: 8.00 a.m. – 6.00 p.m. | Sat: 10.00 a.m. – 5.00 p.m.