Mortgage advice
The financing solution for your dream property
Find the right mortgage with ImmoSky
Even if you are not buying a property with ImmoSky
Owning a property gives you security and is a good investment for the future.
Our advisers will help you to find a suitable financing solution for your chosen property.
You can rely on us to support you as a strong partner. Request independent mortgage advice now.
Mortgage consulting from ImmoSky
verified
What is it?
Independent advice by experienced experts
Free of charge with no strings attached
First-rate mortgage deals
From analysis to agreement in principle
Decision within 48 hours as a rule
groups
Who is it for?
Clients who are buying a property through ImmoSky
Clients who are not buying a property through ImmoSky
Potential buyers who want to work out their budget
Property owners who are looking for a new mortgage deal
schedule
When?
Initial financing
Bridging loan
Follow-on financing
Change of mortgage
How does mortgage consulting work?
Analysing your needs
We look at your circumstances and financial situation.

Selecting providers
We look at which financing partners are the best match for you.

Negotiating a deal
We negotiate the best deal for you.

Supporting you through to completion
We accompany you until ownership is transferred.
We find a solution tailored to you
We provide expert advice on all aspects, such as gifts, advances against inheritance, tax advantages/disadvantages and cover for disability/death. An in-depth analysis of your financial situation, personal goals and preferences enables us to plan the optimum financing strategy.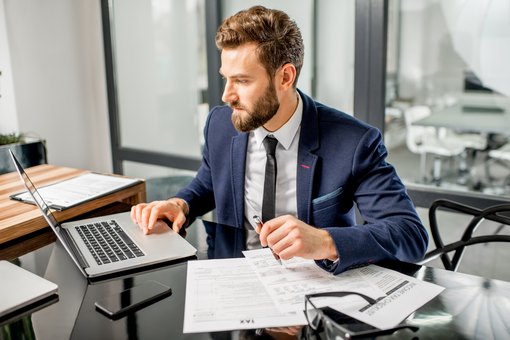 How you benefit from ImmoSky's mortgage advice
We can offer you the expertise of estate agents and financial experts under one roof
Independent advice:
we compare the deals offered by different providers
Our advice is free of charge
We take care of the administration so you don't have to
Further information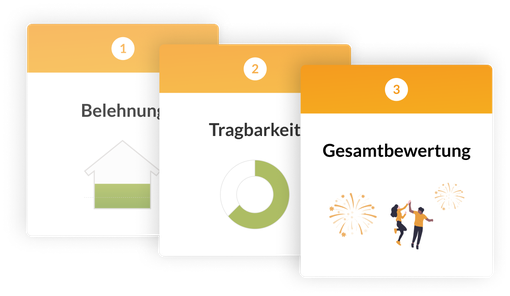 Online mortgage calculator
Use our online mortgage calculator to get a rough idea of how much you can borrow.
Simply enter your purchase price, equity and earnings to see at a glance whether you can afford your chosen property. Free of charge with no strings attached.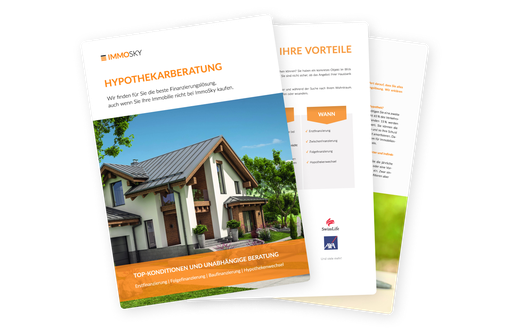 Mortgage consulting brochure
Find out more about our mortgage advice service and the right way to finance a property.
Checklist for financing enquiries
To check an enquiry about financing, banks need documents relating to the property in question and your current financial situation. Any missing paperwork will delay the process, so please have the following documents to hand.
Frequently asked questions
You can find the answers to more questions about mortgages in our Mortgage Glossary & FAQ
Which mortgage model is right for me?

keyboard_arrow_down

There are different mortgage models. Which is the right one for you? Your financial resources play a role, as do your attitude to risk and anticipated developments in interest rates. In Switzerland, there are three types of mortgage: fixed-rate mortgages, variable-rate mortgages and SARON mortgages (money-market mortgages). For all mortgages, the interest rate depends on the amount of the loan and its term, market interest rates and your credit rating (creditworthiness).

How much equity do I need to get a mortgage?

keyboard_arrow_down

You need equity of at least 20%, whereby 10% must be real cash. Examples include savings, a savings balance from the 3rd pillar or advances against inheritance. A pension fund balance, for instance, is not classed as real cash.

How much can I afford to borrow on a mortgage?

keyboard_arrow_down

The interest, monthly repayments (amortisation), maintenance costs and bills must not exceed 33% of your remaining gross income. Banks will only approve applications up to this level.
Request mortgage advice now
We provide independent advice based on your personal circumstances and goals.
We are there when you need us
We are also happy to provide more information or arrange an appointment with a mortgage adviser.
Complete the form and use the option to enter when you would like us to call you back.