Selling property
Would you like professional assistance?
Sell your property successfully with ImmoSky
At ImmoSky, you will find a personal estate agent who will guide you through the entire sale process both skilfully and professionally. From finding the right buyer for your property to signing the contract at the notary's office, we will be with you every step of the way. We will use our wealth of experience and expertise to make the best possible sale for you.
Why sell your property with ImmoSky?
Our estate agency system leaves absolutely nothing to be desired. Thanks to the efficient interplay of our services, we are able to quickly find the ideal buyer for your property and achieve the best possible selling price for your real estate.
schedule
In the right place at the right time
Thanks to our database of potential buyers, we can often find the right buyer before we even start marketing a property.
person
The right buyer
Not everyone who is interested in your property will be a potential buyer. Our experience allows us to identify serious, creditworthy prospective buyers.
campaign
Professional marketing
Cutting-edge technology and our estate agents' expertise enable us to market your property in the best possible way.
flag
Achieving your goals
We will take care of the contract negotiations for you. We are trained in negotiating and can represent your interests objectively, without any emotional baggage.
The ImmoSky approach to selling property
More time for your property sale
Your sale will be handled by experts from start to finish. This enables us to guarantee maximum efficiency and effectiveness. Our estate agents spend about 90% of their working time with their customers and properties – an approach that proves successful. By way of contrast, most estate agents invest just 40% of their time in sales activities.

Our priority is maintaining constant dialogue, liaising with you and fostering a close working relationship. Thanks to your personal customer login, you can keep track of every stage of the sale. We offer you complete transparency about how things currently stand and inform you of the next steps.
1. Getting to know you
Mutual trust forms the basis for a successful working relationship.
Our aim is to get to know you and your property during a no-obligation initial meeting. Understanding your wishes and ensuring you are happy are what matter most to us.
Aims of the meeting
Getting to know you
Explaining the process
Recording the relevant key data
2. Estimating the property's value
Working out the value and potential of your property
Many factors affect the valuation of your house or apartment. Its location, surroundings, fit-out standard and year of construction can all play a major role. The market defines the selling price – we value properties realistically by using our knowledge of individual regional markets and working with a well-known valuation organisation.
You can complete a free property valuation online to give you an initial rough idea.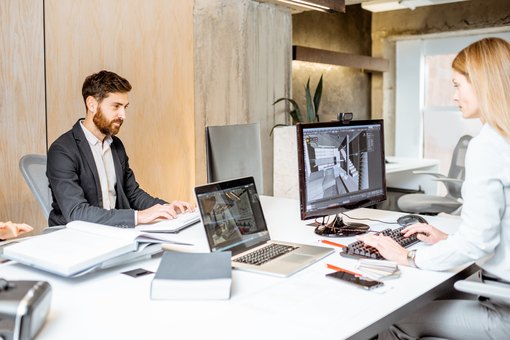 3. Marketing property
The foundations of a successful sale
The better a property is presented, the more successful the sale. That is why is it essential to develop an appropriate strategy. Nothing is left to chance – from online marketing to social media, the targeted use of internal and external networks, optimally targeting our database of potential buyers, and supplementary marketing. This approach means that we address a large number of prospective buyers in the best way. As a result, you enjoy a wealth of benefits that you wouldn't get from a private sale.
Digitisation gives us a competitive edge – we have a finger on the pulse:
Comprehensive marketing leaves more time for the sale
Presentation of your property on all popular online channels (social media, property platforms)
Virtual tour, 3D visualisation, home staging, aerial footage shot by a drone, property video
4. Assisting potential buyers 
We will find the right buyer for you
Thanks to our database of potential buyers (over 100,000 prospects), we can often find the right buyer before we even start marketing a property. Promptly dealing with enquiries and coordinating appointments plays a crucial role in achieving your goal within the desired time-frame. We will show potential buyers around your house or apartment, proactively selling it. This allows us to find the right buyer for your property quickly.
Relax and let us take care of:
Checking prospective buyers
Planning and conducting viewings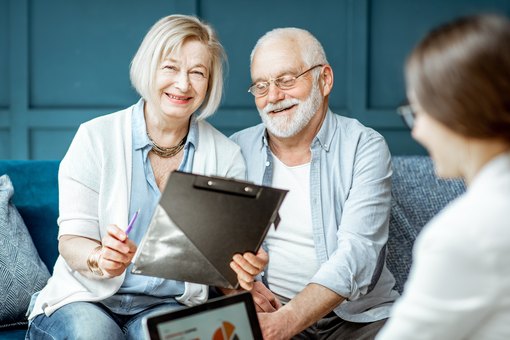 5. Negotiating and completing the sale
Rely on our experts' negotiating skills
We will take care of reservation agreements and, on request, help you to select a buyer. Afterwards, we will organise everything to do with the notary appointment to ensure that notarisation is completed without any hiccups.
Benefit from our experience and our track record on completions:
We will handle all the formalities for you
Progress to completion without worrying about a thing
More about selling houses or apartments
door_front
Do you want to sell your apartment?
home
Do you want to sell your house?
An insight into the customer experience with ImmoSky
play_circle

Find out about Vincenzo Paolino's experience of selling his apartment in Zurich.

"I didn't have to get involved in the sales process much at all because I could tell that the agents were extremely knowledgeable and also very dedicated ..."

play_circle

After several failures, ImmoSky was able to lead Franca Barth to success.

"After several unsuccessful attempts with other estate agents, ImmoSky managed to sell several of my flats in a very short time."
Our ethos
verified
Quality
With our marketing skills, your chances of selling will skyrocket.
verified_user
Professionalism
We will support you through every phase of the marketing process with our expertise and experience.
comment_bank
Trust
Your objectives and needs are our top priority. We are passionate about selling.
workspace_premium
Expertise
We have extensive experience of selling property.
location_on
Regional presence
We work hand in hand, locally and regionally.
groups
Network
We have a large network and an up-to-date database of interested parties.
Frequently asked questions about selling a property
What costs are entailed in selling a property?

keyboard_arrow_down

There are various costs involved in selling a house or an apartment, for both the buyer and the seller. Here is an overview.

Legal expenses
The sale of a property only becomes legally binding once it has been notarised. Legal fees therefore become payable when the contract of purchase and/or sale is concluded. However, these costs vary by canton. It is worth asking for quotations.  
Real estate transfer tax
This tax is payable in certain cantons. 
Land registry charges
Land registry charges also vary from canton to canton. In some cantons, the fee for the land register entry is based on the time it takes to process, but most charge a flat rate. Expenses are charged separately.
Fees for the mortgage certificate
Fees for the mortgage certificate are based on the amount of borrowing.
Property gains tax
When a plot of land, a house or an apartment is sold in Switzerland, property gains tax becomes payable.
Estate agency commission
Estate agents at ImmoSky have all sorts of responsibilities. These include acquiring new clients, advising and supporting existing clients and prospects, and conducting viewings. Their focus is always on selling properties, of course. The estate agent will accompany you throughout the sales process, right up to notarisation. Commission is payable for this work – but only in the case of a successful sale. The seller usually pays the estate agency fees. The charges are set out in an estate agency contract. At ImmoSky, the seller pays a percentage of the sale price to the estate agent as commission in the case of a successful sale.
Additional expenses
In some cases, you may need to allow for additional expenses like an early repayment fee or charges for documents such as an energy performance certificate.

When is the best time to sell a property?

keyboard_arrow_down

It is difficult to define the perfect time. Normally, the best time to sell a property depends on your personal circumstances.

However, the ideal time for a property sale is affected by various factors, such as the current market situation, cut-off dates for taxes, completion deadlines and acceptance periods for new builds or conversions, and local specifics. Your personal estate agent at ImmoSky will be happy to advise you.

How long does it take to sell a property?

keyboard_arrow_down

The sales process usually takes 3 to 6 months. However, it may be take more or less time than this, depending on the condition of the property, how long it is advertised, and way in which the sale is handled. 
Contact us with no strings attached
We are there when you need us
Would you like some professional assistance with selling your property? Our experienced advisers are happy to help.
  058 520 01 30
Mon - Thu: 8.00 a.m. – 8.00 p.m. | Fri: 8.00 a.m. – 6.00 p.m. | Sat: 10.00 a.m. – 5.00 p.m.