Sell an apartment
Sell your property successfully with ImmoSky
Do you want to sell your owner-occupied apartment?
We can help you!
Our estate agency system leaves absolutely nothing to be desired. Thanks to the efficient interplay of our services, we are able to find new owners quickly and achieve the best possible selling price for your apartment.
The first step towards selling your house is working out its market value. Use the online valuation tool for a rough estimate.
Our services at a glance
workspace_premium
Expert knowledge
Experience makes all the difference
 
Professional property valuation
Viewings with a proactive sales element
Strong, established negotiating skills
Securing finance
Assistance during your notary appointment
business_center
Service
Comprehensive customer service
 
Quality and trust come first
Close, customised collaboration
Client login for maximum transparency
More time for your sale thanks to our flawless infrastructure
Dedicated estate agent who is there for you
campaign
Marketing
Maximum power
 
Professional, strategic marketing
Strong selling presence on the market
Targeted approach
Database of qualified prospects
International, efficient network
Would you like some professional assistance with the sale of your apartment?
Our experienced advisers are happy to help.
Successfully sold apartments
What is the key to a successful apartment sale?
At ImmoSky, you will find a personal estate agent who will guide you through the entire sale process both skilfully and professionally. From finding the right buyer for your property to signing the contract at the notary's office, we will be with you every step of the way. We will use our wealth of experience and expertise to make the best possible sale for you.
Further details about  the sales process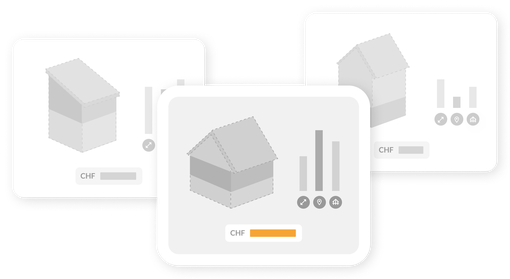 Valuing your apartment
At the beginning of the sales process, you need a valuation of your property. This serves to establish the overall value of an apartment based on its size, location and other factors. The price should reflect market conditions.
Necessary documents
You should keep these documents to hand for a quick sale:
Complete, up-to-date land register entry
Construction plans, floor plans
Property insurance paperwork (policy)
Household bills from the last two years
Official appraisal (if available)
List of investments made
Our estate agents are happy to help you obtain this paperwork.
Presenting your apartment attractively
If you want to sell a property, there are a few points to remember when it comes to optimum presentation. Before the sale, the first step is to have appealing photos taken and then market the property in the most attractive, eye-catching way possible. You can do this yourself, of course, but it is advisable to seek the assistance of a professional estate agency like ImmoSky to ensure a faster, more profitable sale. With the help of your personal estate agent and the marketing services we offer, you will be able to show your property in the best light.
You can find more information about our marketing activities here:
Our ethos
verified
Quality
With our marketing skills, your chances of selling will skyrocket.
verified_user
Professionalism
We will support you through every phase of the marketing process with our expertise and experience.
comment_bank
Trust
Your objectives and needs are our top priority. We are passionate about selling.
workspace_premium
Expertise
We have extensive experience of selling property.
location_on
Regional presence
We work hand in hand, locally and regionally.
groups
Network
We have a large network and an up-to-date database of potential buyers.
What costs are involved in selling an apartment?
1. Legal expenses

- The sale of a property only becomes legally valid with a notary public

keyboard_arrow_down

The sale of a property only becomes legally binding once it has been notarised. Legal fees therefore become payable for when the contract of purchase and/or sale is concluded. However, these costs vary by canton. It is worth asking for quotations.

Regardless of whether you are selling a house, an apartment or a building plot, the sale of your property only becomes binding when it is legally certified.

The notary acts as a neutral registrar between the two parties – seller and buyer – and drafts the contract of sale.
Once the contract has been signed by both parties, the notary also reports the transfer of ownership to the land registry.

2. Taxes

- property gains tax and real estate transfer tax

keyboard_arrow_down

When a plot of land or house is sold in Switzerland, property gains tax becomes payable. This is calculated based on the net profit from the sale and is payable by the seller. In some cantons, real estate transfer tax also has to be paid.

3. Land registry charges and fees for the mortgage certificate

- vary from canton to canton

keyboard_arrow_down

Land registry charges also vary from canton to canton. In some cantons, the fee for the land register entry is based on the time it takes to process, but most charge a flat rate. Expenses are charged separately.

Fees for the mortgage certificate are based on the amount borrowed.

4. Estate agency commission

- it is worth instructing an estate agent to handle the organisation

keyboard_arrow_down

Selling a detached house or multi-family dwelling is time-consuming and involves a lot of organisation, so it is worth instructing an estate agent to handle this side of things.

Estate agents have all sorts of responsibilities.

Acquiring new clients
Advising and supporting existing clients and prospects
Marketing property comprehensively
Conducting viewings

Their focus is always on selling your property, of course. The estate agent will accompany you throughout the sales process, right up to notarisation. Commission is payable for this work – but only in the case of a successful sale. The seller usually pays the estate agency fees. The charges are set out in an estate agency contract.

5. Additional costs

- bear these in mind

keyboard_arrow_down

There may be additional costs associated with your house sale, such as an early repayment fee for redeeming your mortgage before the end of its term. Fees may also be payable for obtaining documents or an energy performance certificate.
Frequently asked questions about selling an apartment
How do I find the right buyer?

keyboard_arrow_down

Not everyone who is interested in your property will be a potential buyer. We will only show your property to selected individuals and check their motivation and creditworthiness. Our experience allows us to identify serious, creditworthy prospective buyers over the phone by asking specific questions. With this approach, new owners will quickly be found for your apartment and the contract of sale will soon be signed.

How do I get a good price for my owner-occupied apartment?

keyboard_arrow_down

There are a few things to remember to help you get the best possible price for your owner-occupied apartment. We will work with you to develop the right strategy for marketing your apartment at an attractive price which appeals to prospective buyers and generates a large number of viewings. The right marketing strategies also include making the perfect first impression on potential buyers.

Is now a good time to sell my apartment?

keyboard_arrow_down

It is difficult to define the perfect time. Normally, the best time to sell a property depends on your personal circumstances.

However, the ideal time for an apartment sale is affected by various factors, such as the current market situation, cut-off dates for taxes, completion deadlines and acceptance periods for new builds or conversions, and local specifics. Your personal estate agent at ImmoSky will be happy to advise you.
Contact us with no strings attached
We are there when you need us
Would you like some professional assistance with selling your property? Our experienced advisers are happy to help.
  058 520 01 30
Mon - Thu: 8.00 a.m. – 8.00 p.m. | Fri: 8.00 a.m. – 6.00 p.m. | Sat: 10.00 a.m. – 5.00 p.m.